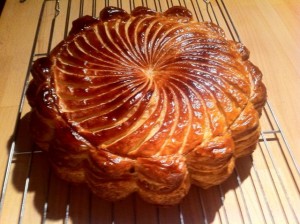 Inspired by this tweet from @ulteriorepicure I decided to make a galette de rois, or kings' cake. I loved the look of it but didn't know anything about it. There's lots of lore around about this cake in books and on the internet, the most delightful is from Davidson's Oxford Companion to Food:
"The glowing galette des rois found in Paris, Lyons and generally north of the Loire is fashioned almost exclusively from… the classic feuilletage. The 'kings' they honour are the three Wise Men come to pay homage to the newborn King of Kings in Bethlehem. They appear around the Feast of Epiphany.
The traditional way of eating this galette, at dinner in a French home in January, goes something like this: the warm galette is brought to the table where its fragrance and beauty are admired briefly before it is cut into the proper number of wedges. A child, usually the youngest, is sent to hide under the table, there to act as oracle. To the summons 'Phoebe' (or 'Apollo') he replies in Latin, 'Domine' (master). As he indicates each portion, the 'master' asks, 'For whom is this the piece?' and the child calls out the first name that pops into his head, without regard to age or station, until all are served and begin eating in an air of anticipation. For someone is about to find the bean in his cake and thereby become king (or queen) of the festivity."
I just went for a coin as I had no dried broad (fava) beans. I scoured a few recipe books and used the recipe from the Desserts and Pastry edition of the Alain Ducasse Grand Livre de Cuisine. Though I used the Modernist Cuisine at Home creme patisserie recipe and added some almond essence to boost the almond flavour of the filling.
I was delighted with the result (pictured above), and Mrs Scrumulous brought it to her work were I hear it was well received. I'm not sure who played Phoebe, but I hear the queen was delighted with her prize.