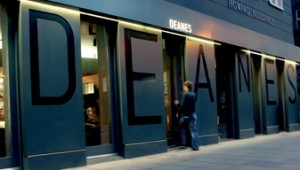 Following somewhat of a hiatus as regards eating out, my fine friend Tom and I decided  on a whim last week to try the pre-theatre option at Michael Deane's flagship restaurant in Belfast, Deanes.
We hadn't booked and arrived with moments to spare before the pre-theatre menu was no longer available (7:00pm) – pas de problème. Service from that moment was as efficient and courteous as you'd expect of a restaurant of this calibre, and at that time on a (Thursday) evening there were still several tables to spare, so it didn't feel too crowded.
Tom and I decided to have the same starter and main from a nice selection (about five or six options for each), which made choosing our wine easier. To begin with we ordered the foie gras parfait, which came with an apple chutney and some toasted sough dough bread, for the main we chose the ribeye steak ('Kettyle's ribeye of Lough Erne beef') which was accompanied by 'fat chips', bearnaise sauce and green beens. To drink we chose the (second wine of) Chateau Larose de Gruaud, 2001.
The wine smelt great – a familiar 'clarety' nose; we had it decanted, but on first sip it was clear it was still a little tight and would have benefitted from breathing for an hour or so before we started – and it certainly got better as the evening went on. I think its imported by James Nicholson, and I'll probably pick up a couple of bottles next time I'm there. Both of us really enjoyed the wine but felt it would be even better in a couple of years.
The foie gras arrived simply plated (rectangular plate) in a 'sliced from a terrine' type shape on the left with a quenelle of the apple chutney in the middle and the toast on the right. For christmas last year I made endless variations on a chicken liver parfait just to get the right texture, and this one (for me) was perfect – light and creamy. There was a lovely foie gras flavour, however I was distracted by another flavour that I think was mace, which took away from my enjoyment of the food – I think there was just too much of it. The bread was fine, and the chutney good – but not massively appley.
I've rarely cooked or ordered ribeye – so went with my standard 'rare' for all things meat – as a result we had some debate as to which was best. The idea being that as ribeye has a higher fat content that fillet or sirloin it will be chewier and so benefits from being cooked further. Our waiting staff assured us rare would be great, although I think we were all overruled by the chef as it came out medium rare. I think he was right. The steak was superb, the taste and texture of the meat was wonderful. The meat was charred nicely (a wee bit too much on one side, that's maybe a matter of taste though). The rest of the plate was fine – and I'm happy that the steak was the star performer – but I did feel a little disappointed by the rest. The  bearnaise sauce was nice and light and had a good flavour. The chips (in a mini deep fat frying pan type thing) weren't great  – both of us had a couple that weren't fully cooked, and they lacked the crispy outside, melty inside that I would expect (in the triple cooked way – I think when I ate at Deanes a few years ago the chips were advertised as such). The beans were, well, beans and, well they were just beans that's all.
I realise that I've been a bit critical of our experience in Deanes, but we did really enjoy the time, and the food. I had a good view of Michael Deane as he stood at the pass checking (some of) the dishes as they went out and generally keeping an eye of things. The service was great, attentive but unobtrusive, and it did feel like this was a fine dining experience – of the sort which Belfast still hasn't to much to offer of. Was it scrumulous – yes, mostly; would I go back – definately.
M