A recent visit to the fabulous Bay Wines in Helen's Bay was no less enjoyable than ever, and ended up with a real treat.
Increasingly I call upon Robert there to help with choices for dinner parties – he supplied the drinks for our big Christmas feast (8 courses for 28 people); in collaboration with our own wine man (Steve Jones) they came up with some wonderful matches for the food.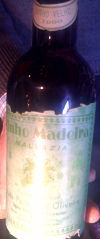 A last minute trip to pick up wines for our first wine club was proving to be as enjoyable as ever, when Robert enigmatically disappeared into the back of the shop to fill a glass with some mystery liquid, and asked me what I thought of it.
At this point I was painfully aware of my lack of knowledge, and had as my basic goal not appearing to be a complete ass. In the glass there was a rich brown liquid which smelt butterscotch-y, lovely – and a taste revealed a fabulous richness and sweetness as well as the butterscotch flavour, and a slightly acidic sharpness.
So, opinion time; it was definitely a fortified wine, which was confirmed by Robert; sure whatever, I'll have a stab… It wasn't port or sherry, somewhere in between colour wise – and it reminded me of one of those island fortified wine, Marsala or Madeira – maybe Madeira. My tentative suggestion was met with an 'exactly right!': delighted.
The mystery continued and the bar was raised: what age did I think it was? Well I've no idea, I was lucky to get the type – though it did taste really sophisticated in a way that some older ports do – so my guess was: probably over 15 years. And technically I was right, because 110 years is over 15 years. The 1900 was clearly visible on the dark bottle with the tattered label. I was really grateful for Robert for letting me have a taste – and amazed that something so old could taste so good. Certainly the oldest wine I've tasted by a long long way. A bit of searching revealed that Madeira wine is known for its longevity: in 1950 Winston Churchill was treated to a 1792 vintage Madeira an reminded guests that it was vintaged when Marie Antoinette was still around (clever fella).
I'm guessing it'll be a while before another 1900 vintage comes my way…
M