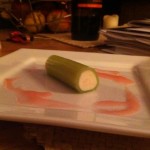 After all my gelatin mysteries were solved I managed to give the smoked eel parfait a go. Tasted great and it turned out the technique suggested in the Bentley book worked a treat.
PVC plumbing pipes are used as molds like so (see pics below): cut your PVC pipe to the required length (for this I used 22mm pipe and cut it to 7cm lengths), then cut out a rectangle of acetate sheet large enough to be rolled into a tube that will fit inside the pipe and protrude a couple of centimetres (in my case these were 9cm by 7cm) – once the acetate is inside the PVC pipe cover the flush end with cling film and tape secure. The pipe thingies can now be used as molds: fill just up to the end of the pipe – when your filling is set just pull out the acetate and it will unfold from your perfect little cylinder of loveliness.
For this dish the eel was then wrapped in celery jelly which had its green colour boosted by spinach – I served it with a rhubarb coulis. The eel parfait was set with gelatin and kappa carrageenan, it tasted beautifully but subtly of the smoked eel – I didn't get too much of the celery but it certainly looked great.