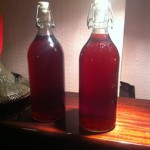 With some trepidation I decided on a whim yesterday to see what had become of the damson wine I'd started during autumn 2009. My fine friend Jonny had a slew of them and we had spent a lovely afternoon collecting them .
Jonny had fond memories of his parents and their friends using them to make jam and such like – my reminiscences were of the gentle pops of the airlocks coming from the row of demijohns near the fire from the collection of wines my dad used to have on the go. So full of enthusiasm and armed with a second hand copy of "The Boots Book of Home Wine and Beermaking" I set about stocking up on the kit and ingredients and got started. And then ignored the demijohns for months often considering that I should really do something about them.
Anyhow – back to the present. Poured a glass from the demijohn, had a sniff – followed by a tentative sip. I'd been expecting the worse – in fact had only tried it from a sense of duty to Jonny's damson trees. The most I had hoped for was 'not entirely repugnant'. So it is with considerable delight that I can report that it really is quite nice. A little sweet (too much sugar added prob) and a bit one dimensional, but tasting very much like damsons – almost like a liquor. I expect it'll make a nice aperitif or perhaps be a great addition to a gamey sauce. Going to try and fiddle around with a specific gravity measuring thingummy to work out how alcoholic it is.
Other boozy projects at the minute include the sloe gin and vodka which are infusing in a dark place at the mo. I vaguely used the recipe from the front of the Sloe.biz site – which is full of tips and alternative recipes in the forums section. We'd harvested ours during a weekend in October whilst staying at a friend's place in Fermanagh. Niallasaurus gathered some too and used much less sugar for his concoctions – so we'll compare notes when it's ready in the summer. Delish. Here's some pics of how the sloes are progressing: